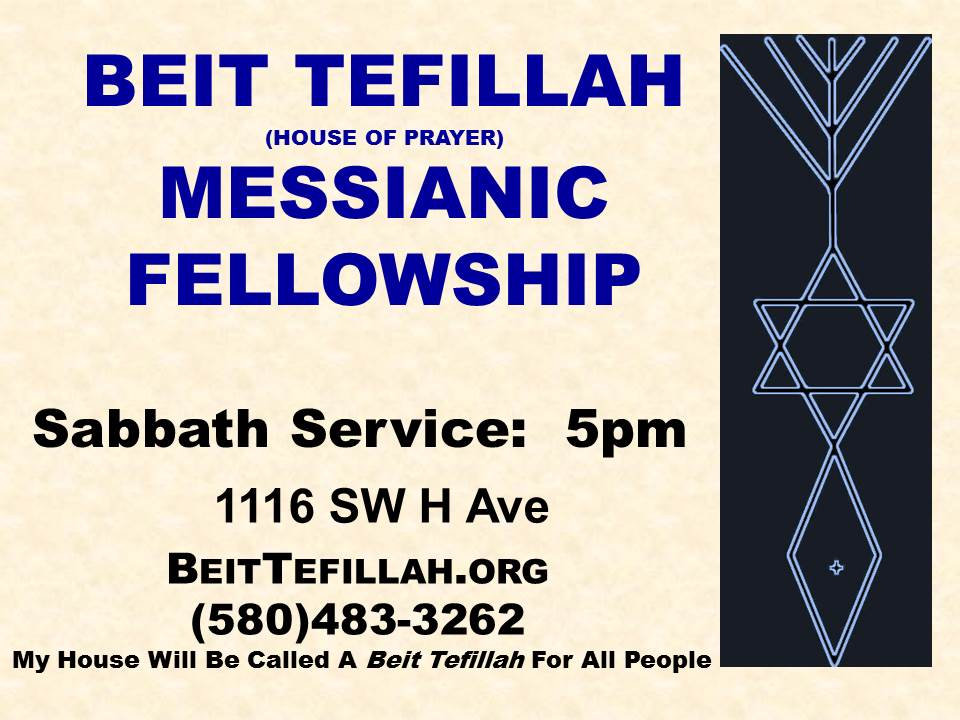 Shalom, everybody — just as a reminder, there is no scheduled meeting in Lawton this Shabbat, 10/22/2016 (due to Sukkot). We plan to meet again on 10/29/2016 for Torah portion Bereishiyt (Genesis 1:1-6:8).
———————————————————————-
Shalom!   Welcome to Beit Tefillah Messianic Fellowship of
Lawton, Oklahoma…..Serving the Lawton-Fort Sill Community and the greater Texoma area.
We're glad you found us!
Beit Tefillah Messianic Fellowship of Lawton meets weekly
for prayer, study, fellowship and havdallah.
We currently meet on Sabbath afternoon beginning at 5:00 pm at the "Faith Apostolic Center" building, 1116 SW H Ave in Lawton (1 block west of the Taco Mayo on 11th St).
Click here for a link to the map showing our meeting location
Come join us for prayer, a light "pot blessing" fellowship meal together, and of course, Torah reading & study with tie-ins to the Ketuvim Netzarim (the Nazarene Writings, also known as the New/Renewed Covenant or the New Testament).
We usually conclude with Havdallah (separating Sabbath from the rest of the week) after sundown.
People are free to come and go as they need, and all who are seeking to learn more of the Hebraic roots of their faith are welcome to attend.
Wayne Ingalls, Zaqen (Elder)
(580) 483-3262 email: Zechariah14 (at) sbcglobal.net