CHANGE TO THIS WEEK'S MEETING TIME
Shalom everyone, this week we are meeting beginning at 12pm on Shabbat (8/1/2015) (please note different meeting time for this week).  We plan to start with a fellowship "pot blessing" meal, read the Scriptures, do an abbreviated liturgy and prayer time, perhaps enjoy some Davidic dance, and then have an abbreviated Scripture study.  We are meeting at our usual meeting location, 1116 SW H Ave in Lawton.   This week's Torah portion is Torah portion  Va'etchanan (And I pleaded) Devarim/Deuteronomy 3:23 – 7:11. The haftorah is Yeshayahu/Isaiah 40:1 – 26. We plan to continue in the Ketuvim Netzarim in Acts 6.
We plan to conclude before Havdallah.
blessings,
Wayne
Our Normal meeting time remains 5pm on Shabbat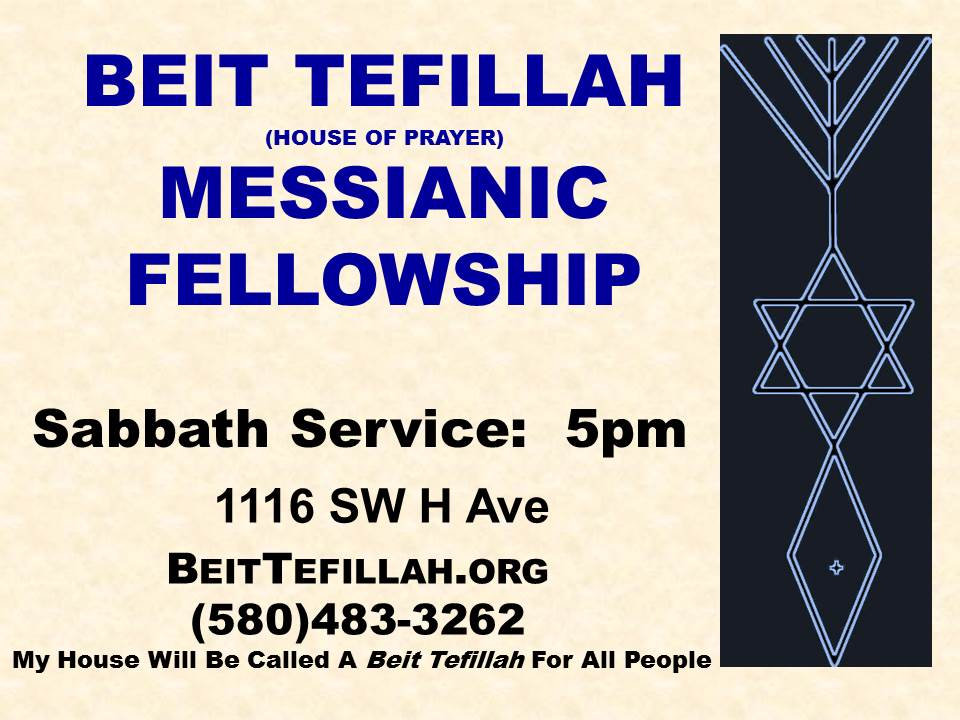 Welcome to Beit Tefillah Messianic Fellowship
Lawton, Oklahoma
Beit Tefillah Messianic Fellowship of Lawton meets weekly
for prayer, study, fellowship and havdallah.
We meet on Sabbath afternoon beginning at 5:00 pm at the "Faith Apostolic Center" building, 1116 SW H Ave in Lawton (1 block west of the Taco Mayo on 11th St).
Click here for a link to the map showing our meeting location
Come join us for prayer, a light "pot blessing" fellowship meal together, and of course, Torah reading & study with tie-ins to the Ketuvim Netzarim (the Nazarene Writings, also known as the New/Renewed Covenant or the New Testament).
We usually conclude with Havdallah (separating Sabbath from the rest of the week) after sundown.
People are free to come and go as they need, and all who are seeking to learn more of the Hebraic roots of their faith are welcome to attend.
Wayne Ingalls, Zaqen (Elder)
(580) 483-3262 email: Zechariah14 (at) sbcglobal.net
For the Altus, Oklahoma Messianic study group (Altus Bet Midrash), contact Gary Gardner, Zaqen (Elder)
email: grygrdnr (at) gmail.com