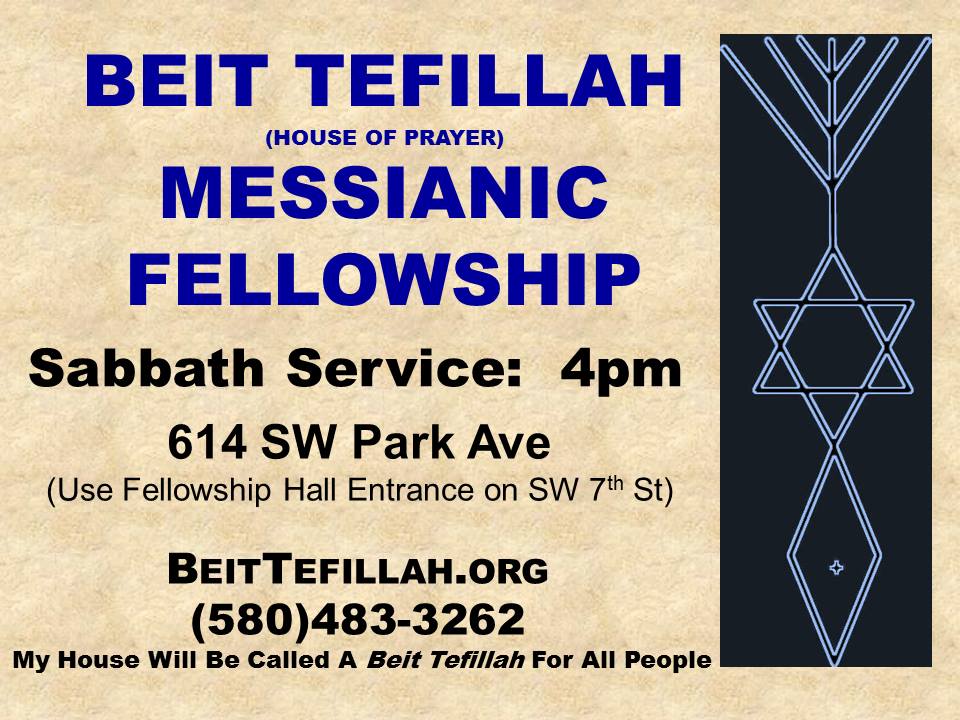 Shalom!   Welcome to Beit Tefillah Messianic Fellowship of
Lawton, Oklahoma…..Serving the Lawton-Fort Sill Community and the greater Texoma area.
We're glad you found us!
Beit Tefillah Messianic Fellowship of Lawton meets weekly
for prayer, study, fellowship and havdallah.
We currently meet on Sabbath afternoon beginning at 4:00 pm at the "Voice of Truth Ministries" building, 614 SW Park Ave in Lawton, across the street (to the south) of Lincoln Elementary School.    Most will need to use the main parking lot and walk around to the Fellowship Hall entrance on the southwest side of the building. However, there is parking for handicapped in front of the Fellowship Hall entrance on SW 7th St.
Click here for the Google maps link to the meeting place.
Come join us for prayer, a light "pot blessing" fellowship meal together, and of course, Torah reading & study with tie-ins to the Ketuvim Netzarim (the Nazarene Writings, also known as the New/Renewed Covenant or the New Testament).
We usually conclude with Havdallah (separating Sabbath from the rest of the week) after sundown.
People are free to come and go as they need, and all who are seeking to learn more  about the Hebraic roots of their faith are welcome to attend.
Wayne Ingalls, Zaqen (Elder)
(580) 483-3262 email: Zechariah14 (at) sbcglobal.net